UC Davis and UC Davis Health are climbing the ranks as Best Employers for Diversity
Top Reasons UC Davis is the Best
UC Davis and UC Davis Health are climbing the ranks as Best Employers for Diversity because we're intentional about diversity, equity, inclusion and belonging. And you belong here too!
---
1. Our leadership
While Forbes looks at the share of women who fill top executive or board positions at UC Davis, our Diversity & Inclusion Executive Leadership Team is providing guidance to senior leadership on various issues related to diversity and inclusion, including improving diverse representation in leadership.

2. Our Office of Equity, Diversity and Inclusion
Our Office of Equity, Diversity and Inclusion, founded in 2019, continues impactful work across the Davis and Health campuses, including Implementing our Diversity and Inclusion Strategic Vision. One critical goal is identifying, attracting and retaining a diverse faculty and staff by holding every division, college, school, and department accountable for bringing diversity and inclusive excellence into recruitment and hiring practices.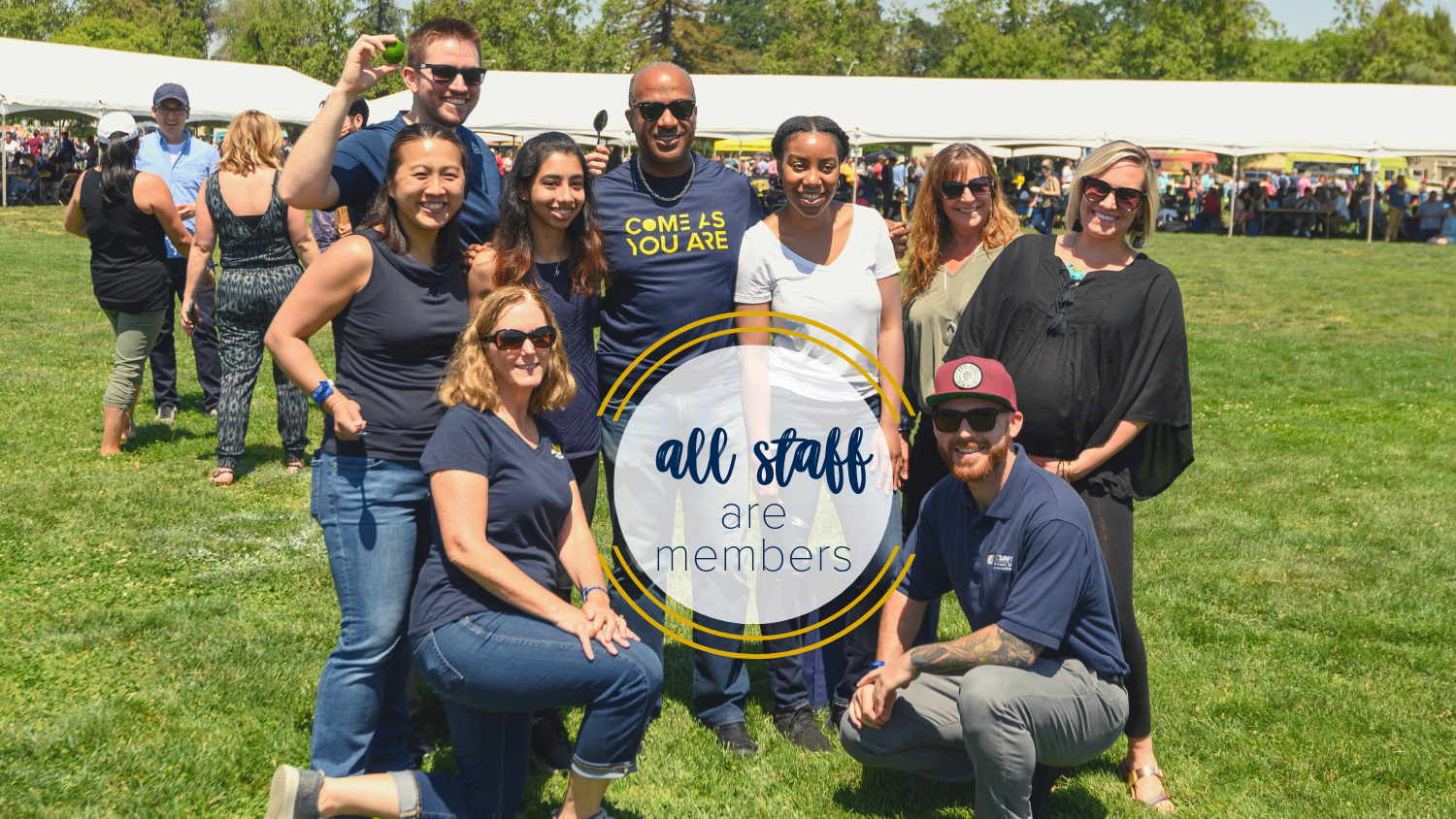 3. We're invested in cultivating a more diverse, equitable, and inclusive environment
We're invested in programs, people and processes to make the university a more diverse, equitable and inclusive environment, particularly in light of the need to address implicit and explicit bias, racism, and structural inequalities.

By working toward Anchor Institution status at UC Davis Health, we're improving the health, welfare and wellbeing of neighboring communities. The first strategy is to partner with the local community to hire and develop local talent because UCD thrives when our workforce reflects the diversity of our student population and the patients we serve. You can check out all our hiring events (past and present) on the Aggie Square webpage.
"We've been working to reverse systemic/structural racism and discrimination in close allyship with our surrounding communities, through programs such as our Anchor Institution Mission, to improve and empower our neighbors around us."  --  Brad Simmons, Chief Administrative Officer & Chief Operating Officer, UC Davis Medical Center and Mike Condrin, Chief Operating Officer, Ambulatory Care. 


4. Our Employee Resource Groups
Our employee resource groups foster a sense of belonging for veterans, members of the LGBTQIA+ community, individuals with disabilities, women and others.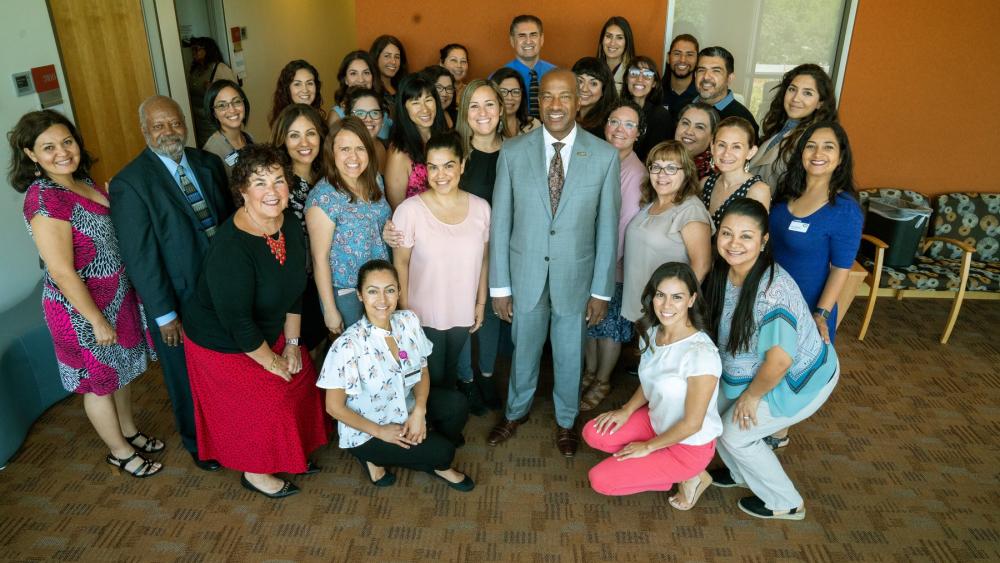 5. Our recruiting efforts
Our recruiting efforts target underserved communities with the message You Belong Here. We make sure recruiting committees and interview panels are representative of our diverse community and prepared to manage implicit bias in the hiring process.


6. Our non-stop educational opportunities
Our non-stop educational opportunities include the Race Matters series, launched in 2020, to help teams have conversations about race. A Creating Safe and Inclusive Spaces series is underway, preparing leaders to create safe spaces for conversations impacting their team's work and professional lives. The Office of Diversity, Equity and Inclusion's annual calendar is packed.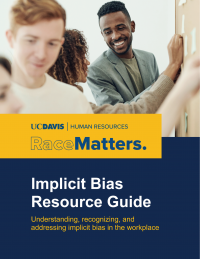 7. Our Principles of Community
Our Principles of Community reflect ideals we seek to uphold and are shared widely, particularly during Principles of Community Week.
"The Principles of Community mean every individual has the right to fully participate in university life: every person is valued equally; and the ability to question, disagree and to think new thoughts is at the core of everything we do as a university."  -- Dr. David Lubarsky, CEO, UC Davis Health  |  Read more 

8. We ask employees for feedback
We ask employees for feedback on diversity, inclusion and belonging, and then take action.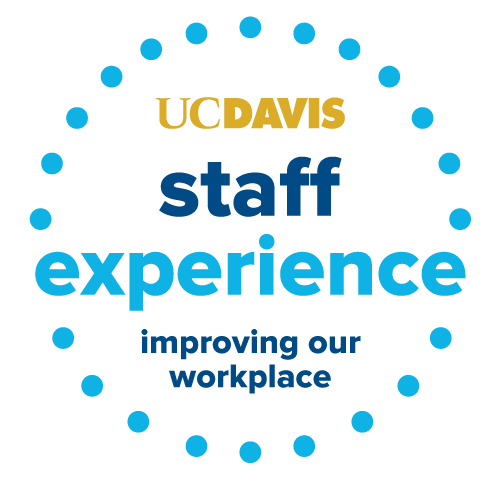 The Staff Experience Survey was launched in 2020, offering Davis Campus staff the opportunity to make their voice heard, while UC Davis Health's employee survey recently identified ways to reduce DEI disparities and valuing different backgrounds.

9. We celebrate individuals and departments
We celebrate individuals and departments for notable contributions promoting "an environment that fosters a sense of inclusiveness and community for all." The Chancellor's Achievement Awards for Diversity and Community go to …
Soaring to New Heights celebrates individuals and teams for their championing diversity, our Principles of Community and disability awareness across UC Davis.

10. Our Chancellor thinks Diversity in Hiring at UC Davis is a priority
"Our workforce should reflect the diversity of our students and of the State of California." - Chancellor Gary May